They ruled Westeros from atop their dragons, imposing their rule with the threat of fire and blood. They were notorious for wedding their siblings and for feuding with one another, plunging the kingdom into chaos and death.
And, in recent years, they've also become known for a particularly dangerous strain of madness that has led to even more slaughter. For those who feel a little down about all of the terrible things that the Targaryens have done throughout their time as rulers of Westeros (and even after), here are some truly hilarious memes to remind you that it's not all fire and blood.
10. JON SNOW?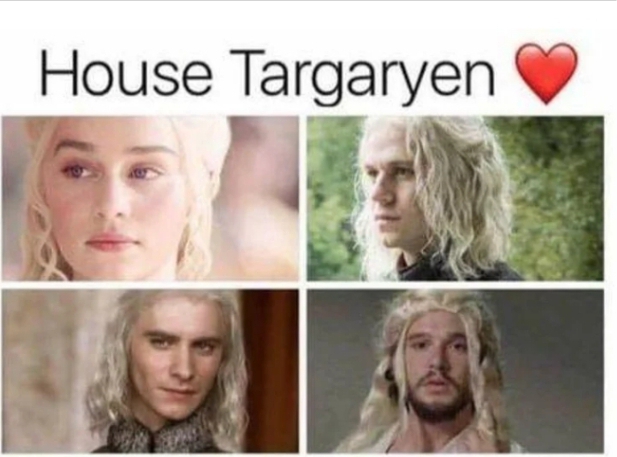 For much of the run of Game of Thrones, an ongoing mystery was who, exactly, Jon Snow's parents were. With the revelation that he was actually the son of Lyanna Stark and Rhaegar Targaryen, we now know that he has a claim to the Iron Throne.
In this hilarious meme, we see a rather interesting transformation, as the notably dark-haired and brooding Jon Snow slowly transforms into someone who looks a bit more like the rest of his incestuous family. It's a light-hearted reminder that there's always humor to be found in even the darkest of situations.
9. OH, AUNT MARGE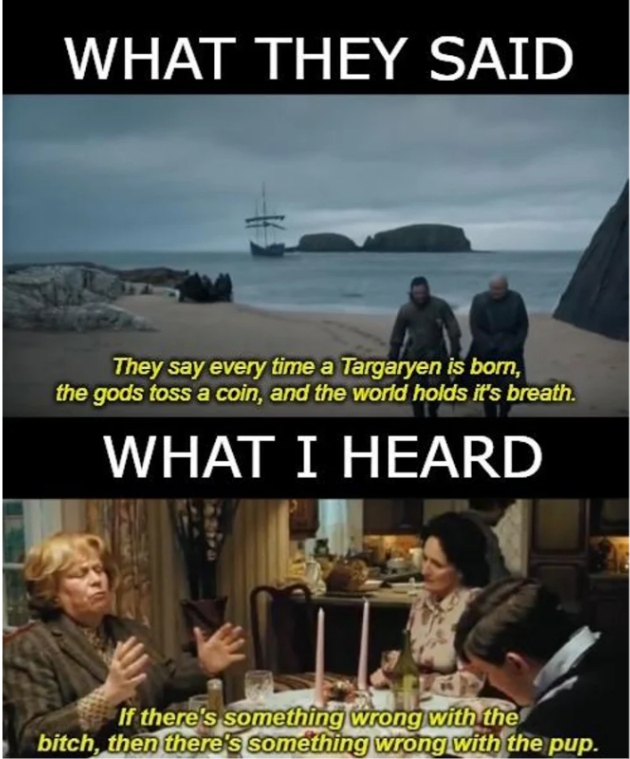 This meme is the Harry Potter/Game of Thrones mashup that you didn't know you wanted. It's a well-known saying that a given Targaryen is as likely to be a murderous and genocidal madman as it is a beneficent and wise ruler.
In this case, it's hard not to be reminded of that key moment when Aunt Marge, one of the most unpleasant characters in the entire Harry Potter universe, uses a crude dog breeding metaphor to take a swipe at Harry's own parentage. In the case of the Targaryens, though, it's unfortunately true.
8. AH, INCEST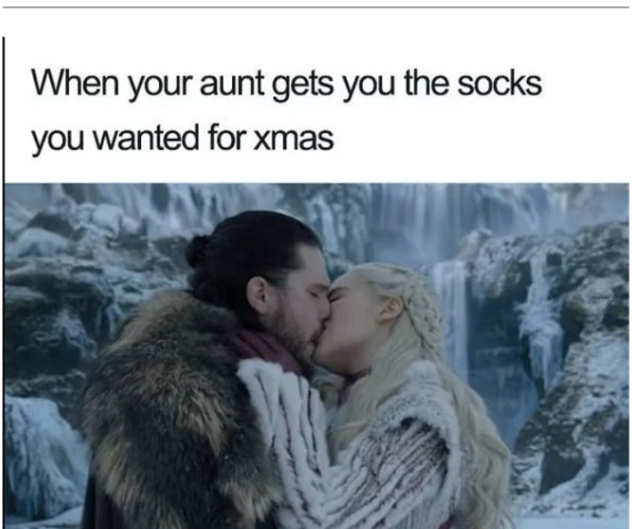 Of course, one of the wrinkles that emerges in the final seasons of Game of Thrones is the romance between Jon Snow and Dany, a wrinkle made even worse by the fact that it's revealed that they are actually aunt and nephew.
It is, admittedly, more than a little creepy, but at least they're of comparable age. For those who are squeamish about the idea of an aunt and uncle getting together—and, let's face, that's almost all of us—this meme makes it at least a little bit humorous.
7.YOU CAN'T UNSEE IT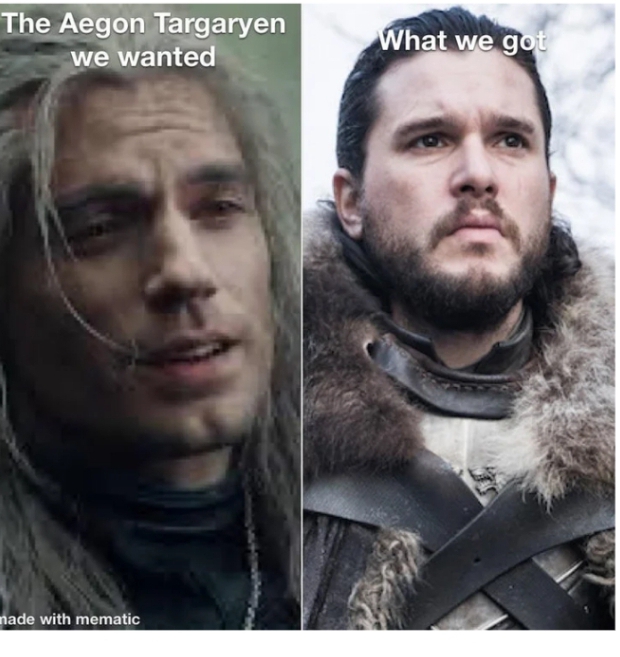 There's no question that Geralt the Witcher in Netflix's series of the same name bears an almost uncanny resemblance to the many members of House Targaryen that we've seen in Game of Thrones, with his unnaturally pale hair and strange eyes.
One can forgive many of the fans of the latter for wishing that the Aegon Targaryen that they wanted to see would bear more of a resemblance to Henry Cavill than to Kit Harrington. Nothing against Kit, of course, but he does lack the sort of brutal, virile masculinity of Cavill.
6. A TANGLED TREE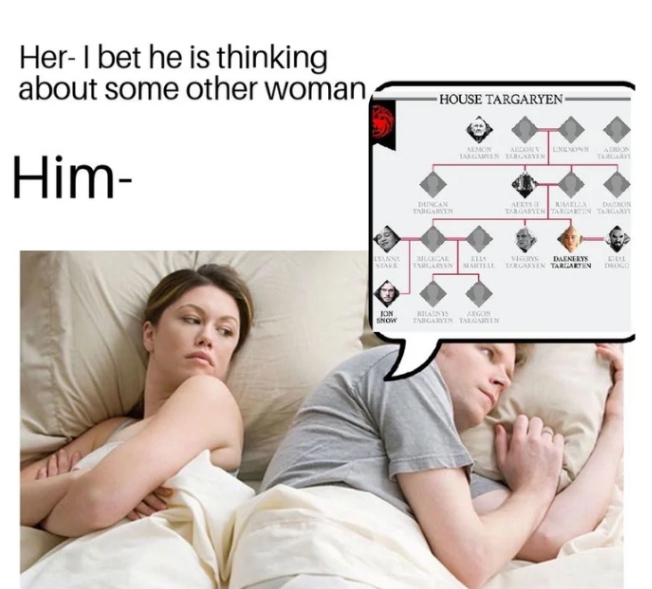 Is there anything worse than lying in bed next to your loved one and not being able to shake the feeling that they're thinking about another person? As it happens, the answer is yes.
Imagine how much worse it would be for your significant other musings over the fact that Jon Snow and Dany are, unfortunately, quite a lot closer to the Targaryen family true than anyone thought. Then again, what's an aunt/nephew pairing compared to the many times that Targaryen siblings have married (and had children together).
5.WHY IS THIS SO CONFUSING?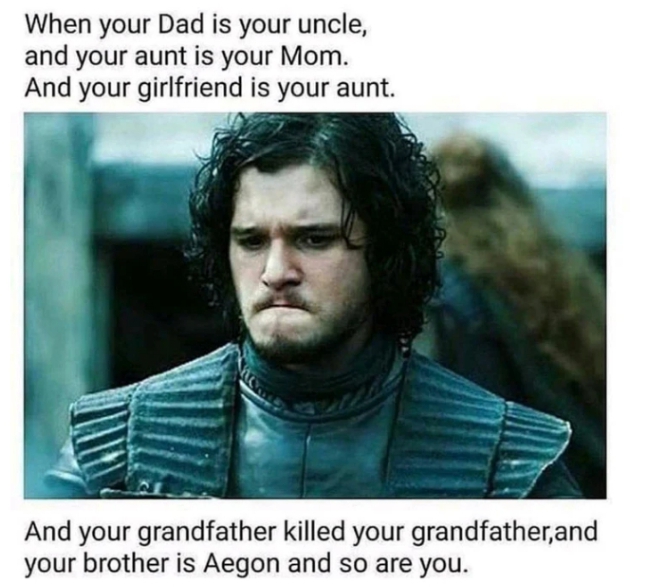 Anyone who has either read the books or seen the series Game of Thrones knows how truly bewildering the nomenclature (to say nothing of the tangled family relationships) can be to the uninitiated.
Who better to express that profound sense of confusion than our very own Jon Snow, himself a Targaryen and rather infamous for the many moments in the series in which he seems utterly confused and unable to make a decision. Given the fact that his own Targaryen ancestry is hopelessly tangled up, we can sympathize with Jon. At least a little.
4.THE STRANGE CASE OF DUNK AND EGG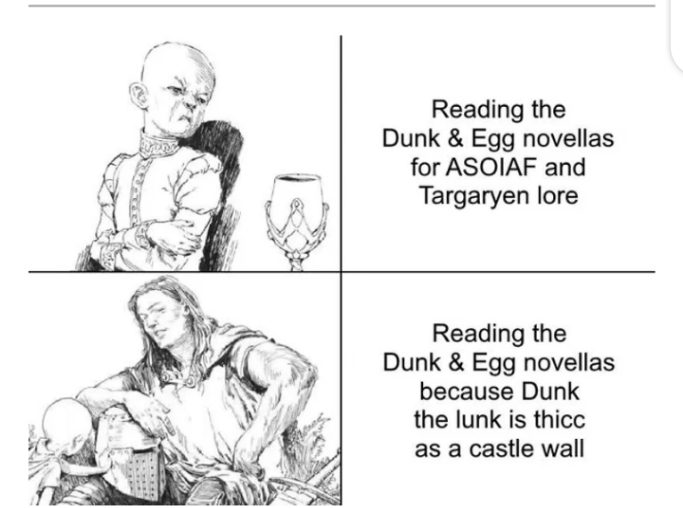 One of the greatest frustrations for readers of A Song of Ice and Fire is the seemingly glacial pace at which Martin seems intent on moving with the books, even as he continues writing stories set in the past. The most successful (and interesting) of those have been the novellas about Dunk and Egg (the latter of whom is actually the brother of Maester Aemon).
There's no question that Dunk, the knight who is a key part of the story, is pretty hunky, and he definitely makes reading the stories at least a little bit less of a burden while we wait for the next book in the main story. It still doesn't hurt, though, that Egg is the rare Targaryen in the books that isn't an insane monster.
3.WELL, THEN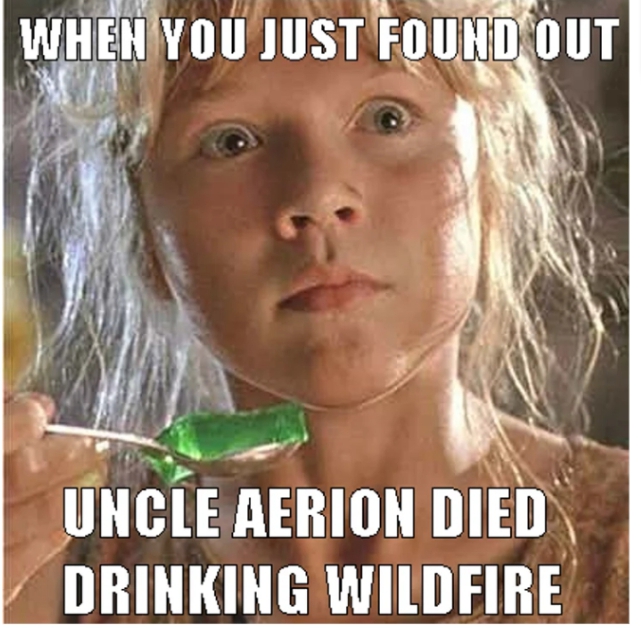 It probably hasn't occurred to most people that the little girl from Jurassic Park looks a lot like a Targaryen, making her a perfect vehicle to talk about one of the lesser-known pieces of Westeros lore.
Aerion, one of the crazier Targaryens in a family not known for their firm grasp on sanity, actually drank wildfire which, it just so happens, also has the same shade of green as JELLO in our world. Considering the effect wildfire had on the Sept of Baelor, one can't blame her for looking so shocked and horrified.
2.THAT'S…PROBLEMATIC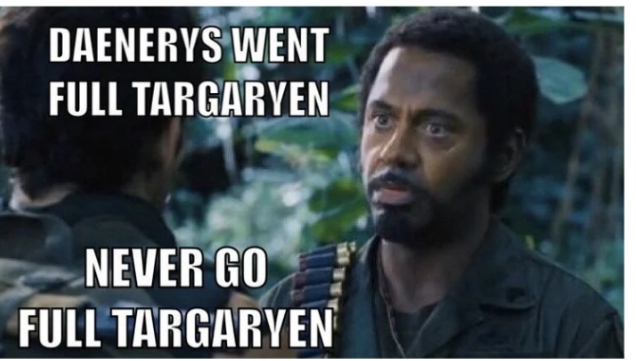 One of the most vexing (and also exciting) moments in the final season of Game of Thrones occurs when Queen Dany, having finally achieved victory of King's Landing, decides to torch the very people that she's supposed to be going to rule in very short order.
Needless to say, that particular action on her part hasn't gone down very well with the fan base, and what better way to talk about how problematic her behavior is than by using a particularly problematic piece of pop culture from Tropic Thunder?
1. AND DANY AGAIN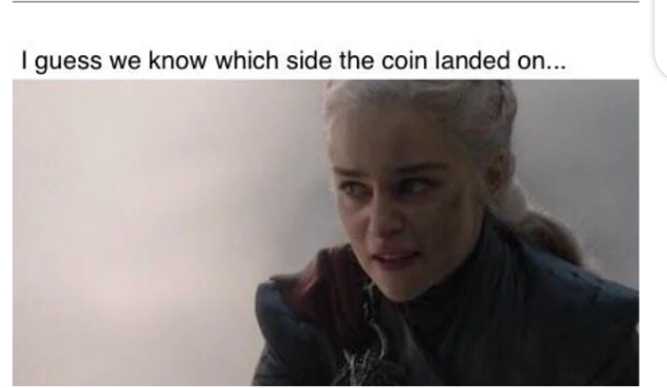 As we already know, the gods seem to have a particularly bitter sense of humor when it comes to the Targaryens. In this case, the coin that determines the madness of a particular Targaryen seems to have landed on the absolutely crazy side.
While Dany's flip into full-on dragon madness is an abrupt shift in the narrative—and while it is certainly one of the most traumatizing and terrifying moments in the entire series—this meme at least helps us laugh a little, even as we can't quite forget how many people died, all because of a coin toss.